Schneemanns web page
last updated: 11-Jan-11

The list of calculators with references of types, capacity, manufacturer, time range, etc.

E.Martin's book (English translation) with contemporary pictures and add. information

Web page from Jan Meyer. Overview of the different types with technical explanations.

Mathematisches Maschinen-Museum

Web page from the PH Ludwigsburg, Prof.E.Anthes. (in German)
paper E.Anthes, historical development of mechanical calculators

virtual exhibition of calculators

"fathers of the mechanical calculators", Schickard, Pascal, Leibnitz, ...., short cur.vita and a description of their machines

articels from Anthes, Lange, Reese about specific calculators (Friden, Alpina, Marchant, Mercedes-Euklid, Hamann)
Internationales Forum Historische Bürowelt e.V.
Assoziation of ca. 350 collectors of historic office equipment.
Die große Enzyklopädie des mechanischen Rechnens

Comprehensive collection and description of tools around calculating
Rechenmaschinensammlung
Web page from Reinhard Atzbach. Large collections of tools around
calculating with explanations of the mechanics.
Web page from Walter Szrek. Large collections of calculators with nice
pictures and references to Martin's book.
The Collection of Calculating Devices
Web page from Andreas Tabak. Collection of calculating devices and more.
collection of mechanical, electronic and pocket calculators
Web page from Erez Kaplan. This site deals mainly with the mechanical calculating machines from a collector's point of view.
John Wolff's Web Museum - Calculating Machines
Provide an Australian perspective on the calculating machines that have been in common (and not so common) use in this country, and on the ways in which they were used; and especially to present detailed technical descriptions of the mechanisms of the more interesting machines, to assist other enthusiasts in their understanding and preservation
Contex
Collection of office machines with details of the Brunsviga company history.
Web page from Andrew Davie, Tasmania. On this site you will find pictures and details about all the Soviet electronic calculators that I know about
Contex
Welcome to Christofer Nöring's web site about antique and classic typewriters and calculators, with particular emphasis on the Swedish industry and collecting scene. Complete overview of Facit and Odhner family trees.
Contex
Web page from James Redin. Collection of electronic calculators. Photos of collectors (and links to their web pages). Forum and (large) databace of collectors
Vintage Calculators Web Museum
This site was produced by Nigel Tout, Leicester, England. The object of this site is not to simply show large numbers of calculators but to feature representative examples of the various types, and highlight the main steps in the evolution from mechanical to cheap hand-held electronic calculators
Web page from Detlev Bölter with nice pictures and hints for restauration of old calculators
collection of Paulo Boselli
collection from Gordon Bell, the famous HW architect of the Digital Equipment PDP-11 and VAX
collection from Peter Kernwein

Links to specific Calculator types
Addiator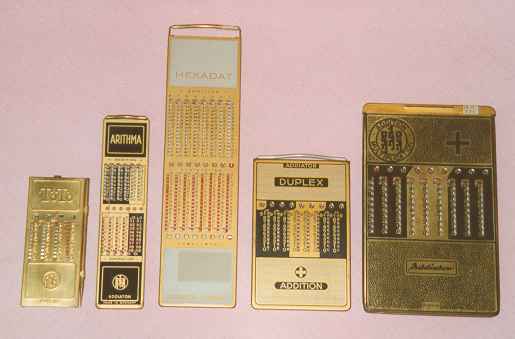 Friedrich Diestelkamp's comprehensive overview of the Addiator models.
Odhner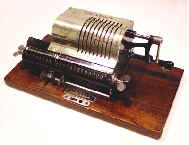 Web page from Kevin Odhner. Lots of information and beautiful pictures
Web page from Timo Leipala. Quick reference guide for determining the
age of Odhner calculators
Web page from Sergei Frolov. Impressive collection and very nice pictures
from Odhner calculators build in Russia
Triumphator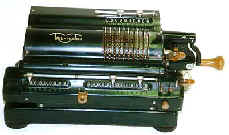 Hewlett-Packard
The Museum of HP Calculators displays and describes Hewlett-Packard calculators introduced from 1968 to 1986 plus a few interesting later models. There are also sections on calculating machines and slide rules as well as sections for buying and selling HP calculators, an HP timeline, collecting information and a software library.
Web page from Rick Furr: Here you will find a wealth of data I have collected over the years on HPs, on TIs and on my all
time favorite mechanical calculator, the CURTA
Facit
Family tree of Facit calculators
Harald Schmid web page about Facit machines
Continental